Our Company
At Soul Insole, we design unique, high quality, affordable solutions for foot health. Foot pain can be debilitating & can impede our ability to work & to do the things that we love. The feet support the entire body. We help to provide the most innovative, effective solutions to support the feet and help people to get back their quality of life. Our unique insoles fit into dress shoes, sandals and athletic shoes!
Soul Insole is a women owned small business that cares about giving back to a variety of charitable organizations. We are a fair trade, vegan, cruelty free, conscious company and we make our packaging out of recycled material. Also, we re-use boxes to create our displays and reduce waste.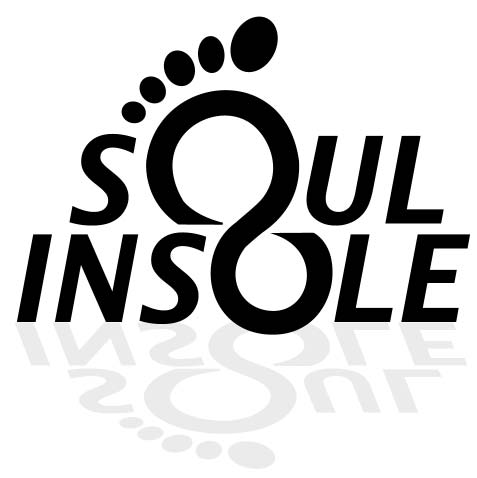 The Product You Never Knew You Needed
The Soul Insole Shoe Bubble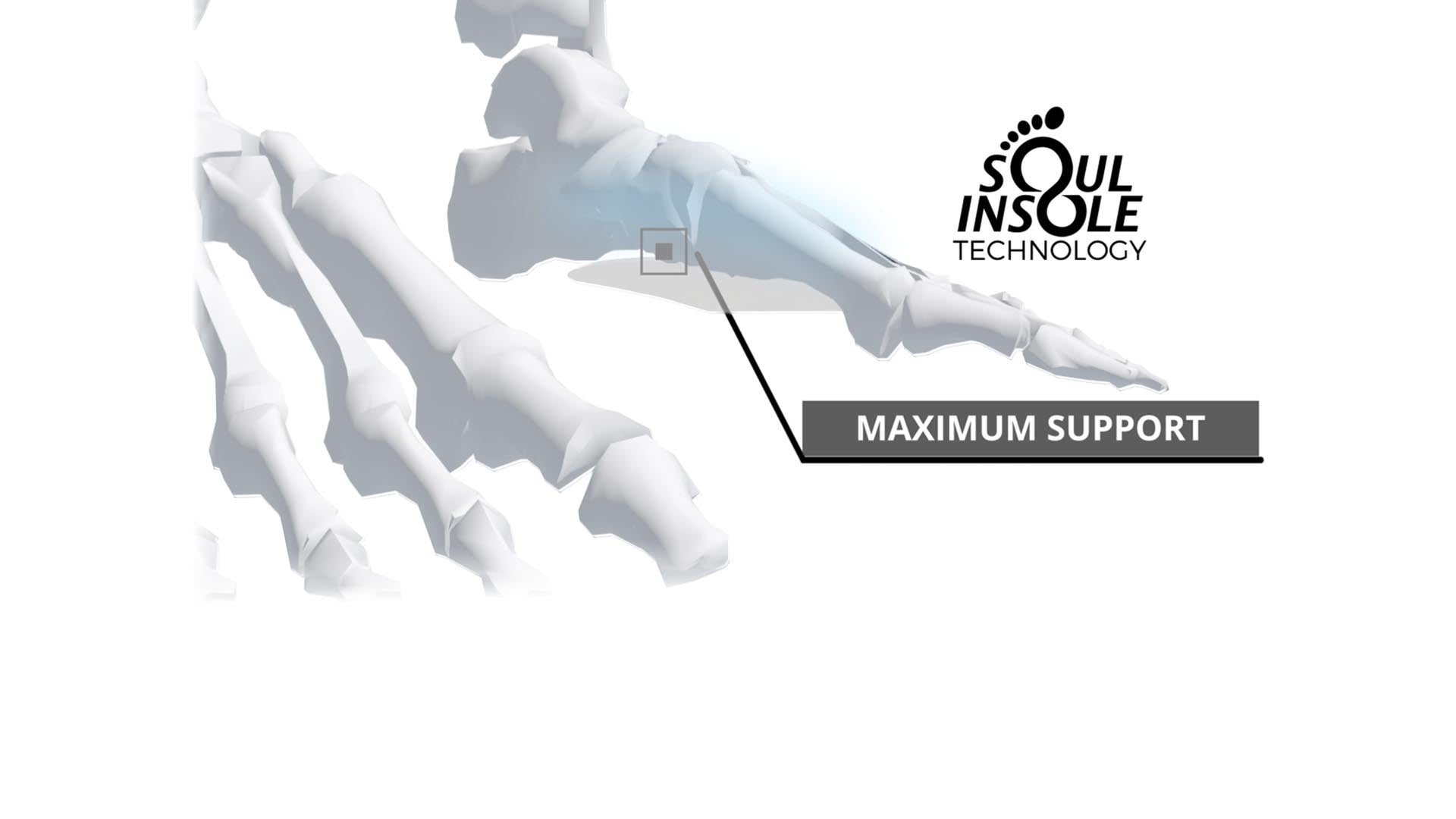 The first non-intrusive, reusable and universal orthotic
We built a product that outlasts our competitors and works in any shoe no matter the size

The biomechanically designed shape of the Shoe Bubble effectively redistributes pressure evenly across the foot to relieve pressure from the heel and forefoot. The soft support helps to train your foot to strengthen its natural arch without causing the foot to become reliant on support.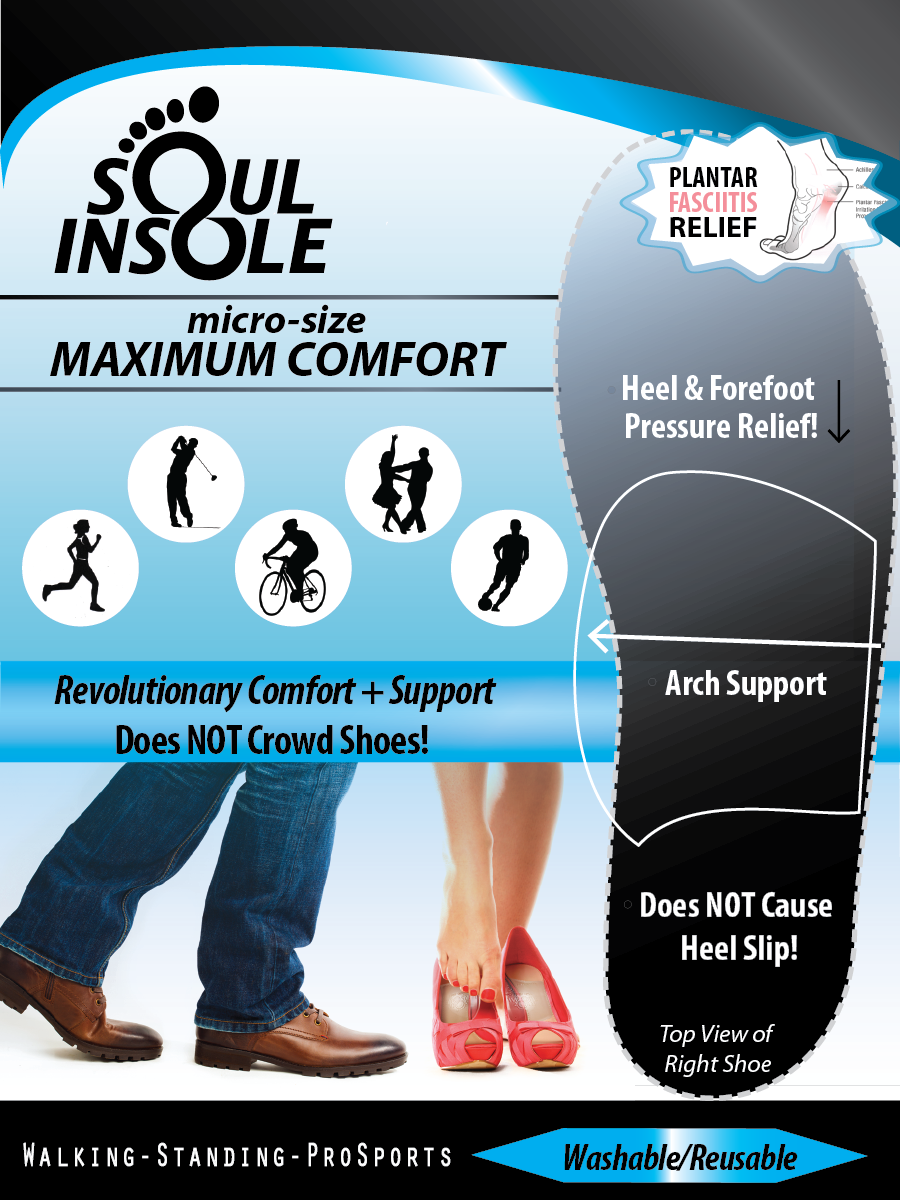 Soul Insole's flexible design works with your shoes, not against them!

The Soul Insole is an arch booster & can be added to a full length insert or directly placed into any shoe.
 It utilizes the existing structure of the shoe to increase support to your arch. As it is flexible, it will feel different in a shoe that has no support vs. a shoe that already has some arch support.

Shop Now
How To Place Shoe Bubble Into Shoes & Sandals
Why Soul Insole Technology Works
Designed by biomechanists. These insoles are made of an advanced medical grade gel material – it's anti-shock, high elasticity, hypo-allergenic, non-toxic, odorless, soft, flexible, maintains shape and has a long life expectancy
Did we mention it washes back to its normal state?
Run your Soul Insoles underwater and their stickiness returns like brand new.
Great For:
Athletes
Any person who works on their feet
People experiencing any type of foot, leg, or back pains


Advantages Over other Insoles:
Does not crowd your feet
Works in any shoe
Easy to clean

Foot Ailments:
Plantar Fasciitis, Over-Pronation
Morton's Neuroma, Metatarsalgia
Heel Pain, Heel Spurs
Joint Pain, Arthritis
Flat Feet, High Arches

Unique Soles:
Form to any shoe
Washable
Long Lasting

What it Fixes

Prevents over-pronation

Supports flat feet and high arches

Relieves pressure from the heel and forefoot

Creates better posture, alignment, and balance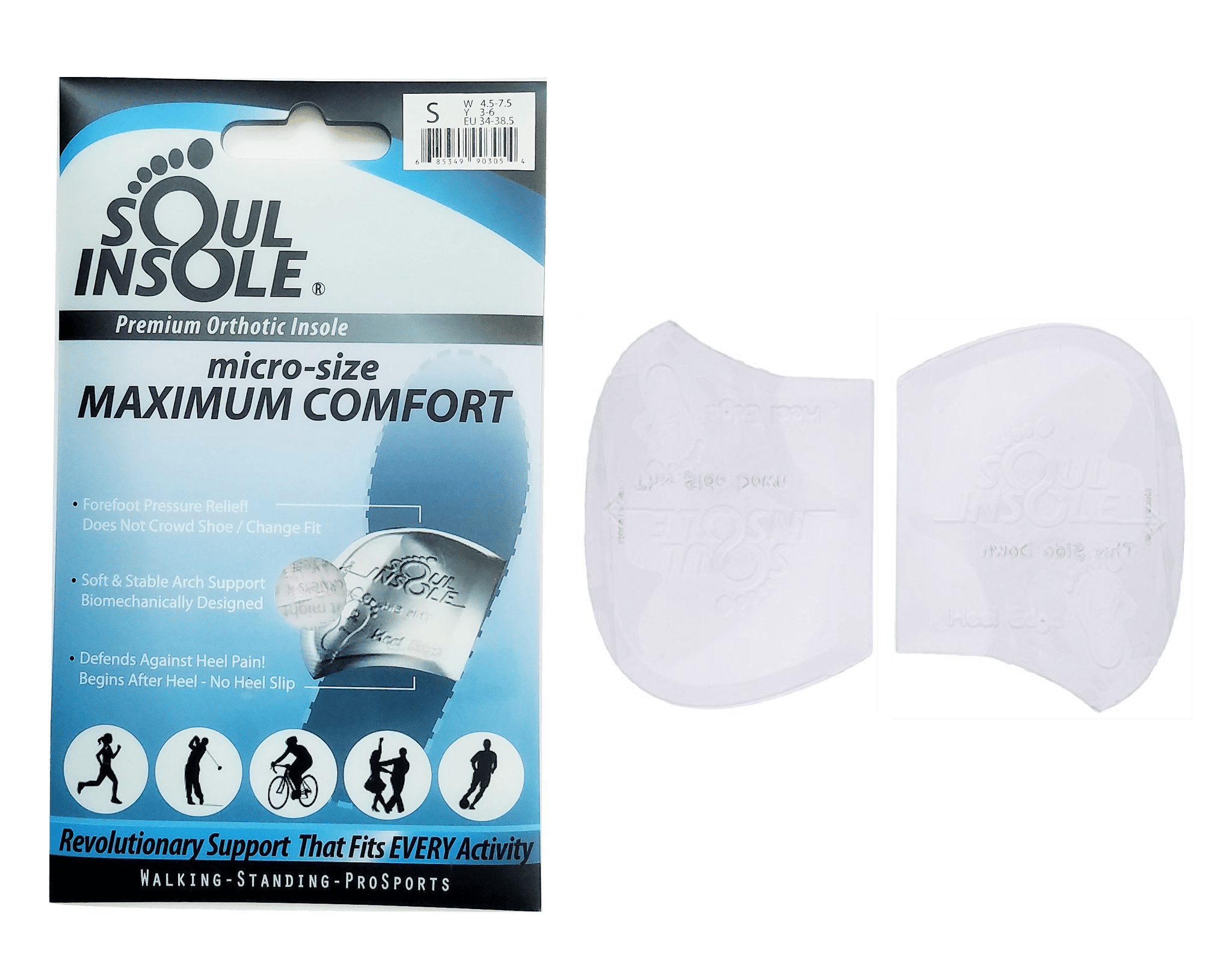 Specifications & Sizes

Small:
Women:4.5-7.5 / Youth:3-6 / EU:34.5-38
Medium:
Women:8-11 / Men:7-10.5 / EU:39-43.5
Large:
Women:12+ / Men:11+ / EU:44+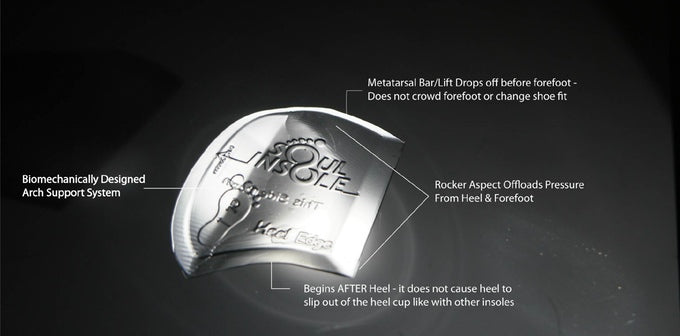 The Shoe Bubble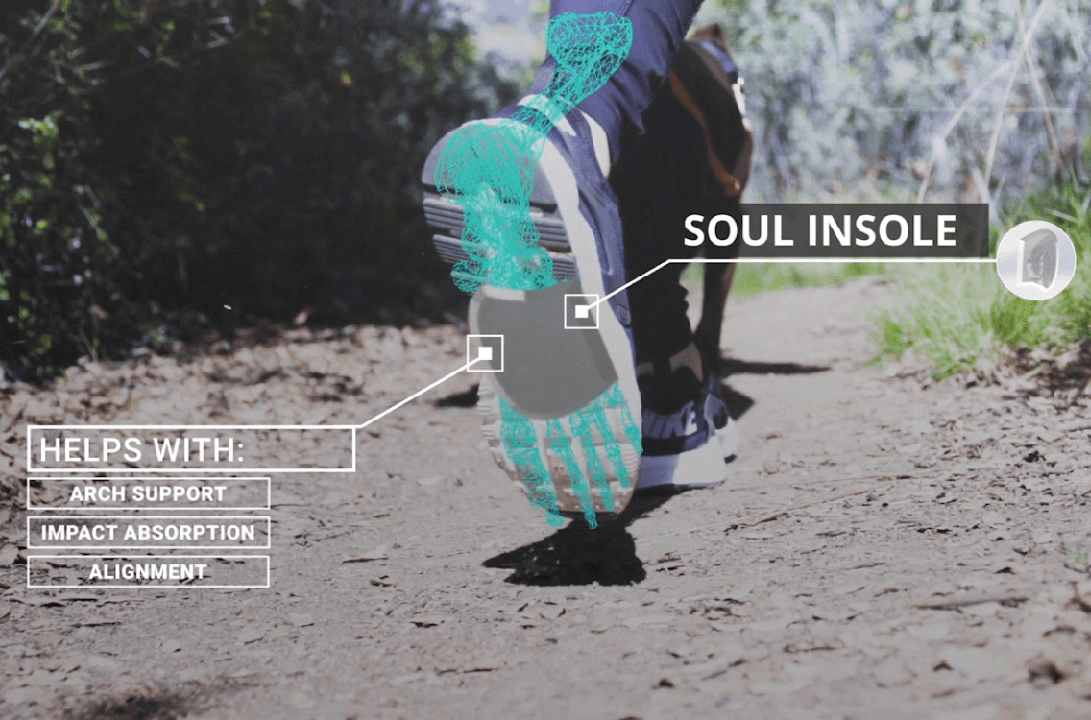 Small Size, BIG Benefits
The Soul Insole Shoe Bubble is a small, flexible orthotic insert that makes a BIG difference in the way your shoes feel!  It relieves pressure from your heel and forefoot in EVERY shoe, without changing the fit.
Adds Support & offloads pressure for all-day COMFORT!
Use for both high arches and flat feet alike
Promotes good balance and alignment for all day
Save hundreds & have support in the shoes you actually wear
Do you have Plantar Fasciits? Heel Pain? Neuroma? Heel Spur? Over Pronation?
The Shoe Bubble drops off before the forefoot and heel to somewhat suspend the bones, offload pressure and redistribute that pressure more evenly across the foot.  It also has medial, lateral and transverse arch support!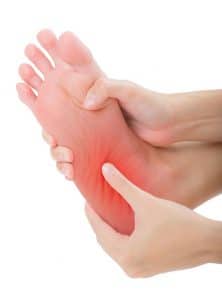 EASY TO USE, WASHABLE & REUSABLE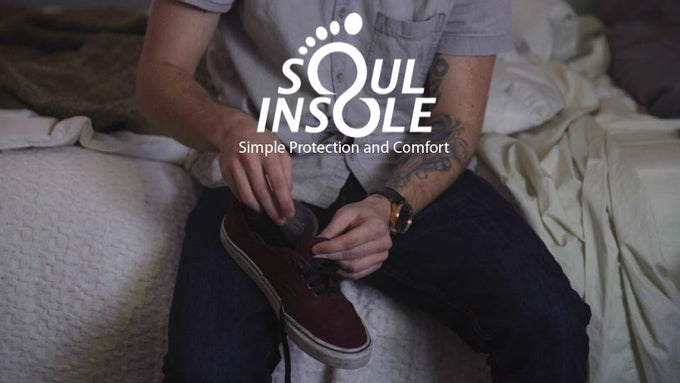 Simple Protection & Comfort
This minimalist orthotic softly raises your arch up to proper alignment, while forming to your feet like a custom insole. Rather than spending hundreds of dollars on orthotics that only fit into your bulky tennis shoes, you can now enjoy increased support, balance, and comfort in all the shoes you like to wear.


Washable & Reusable
If and when these insoles happen to get covered in dirt on your outdoor adventure, simply wash clean with water, the adhesive regenerates!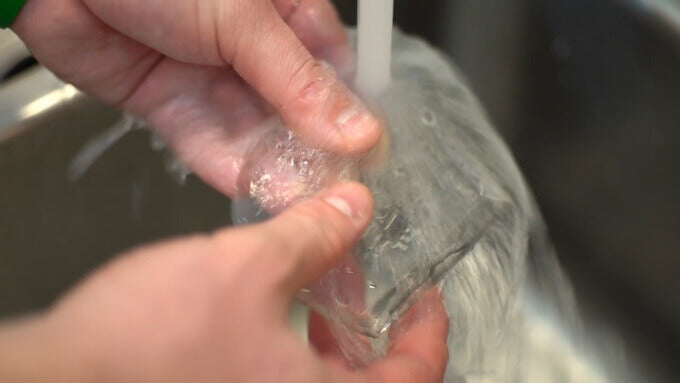 STYLISH & UNIQUE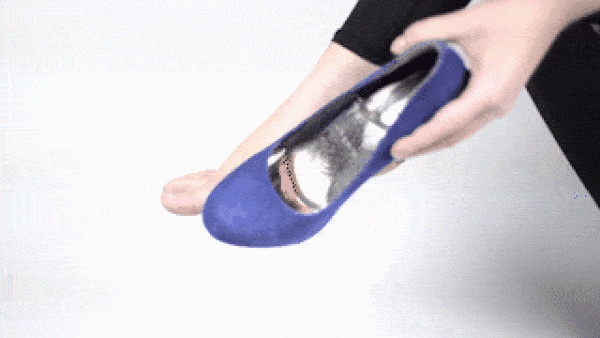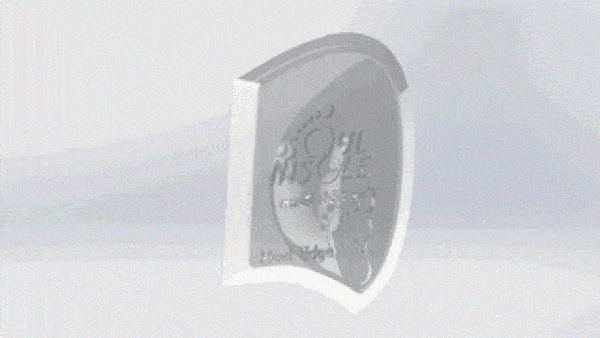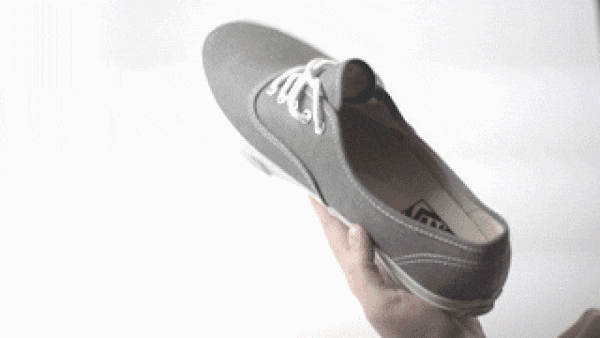 Buy Now
I put it in my favorite pair of day shoes that I wore to work every day. The Soul Insole provided critical arch support that immediately reduced my pain levels. Overtime my standing posture shifted and the pain subsided. The Soul Insole was a big part of my recovery and I would recommend it!

Steve-Santini
Engineer and Athlete



I've been suffering from pain in my arch for a few years now. I've tried all sorts of insoles, but they either didn't help much, or they were too bulky to fit into anything but sports shoes. And then came Laina... She gave me do-it-yourself instructions, and bang - ever since, the shoes in which I plugged the insoles in became my favorite.

Yael-Birk
Sales Professional

My plantar fasciitis is pretty much done and I'm doing better! Thanks for your help! I would like to get two more of the arch supports

Bob Gunn
Happily Retired
I truly thank you so much! They feel Great! Also, I can't thank you enough for helping my sister-in-law with her bad ankle. She's pain free, first time in 41/2 years

Becky Kozak
Retired Restaurant Owner and Travel Tour Guide
I was born with flat feet and I never realized how that affected my alignment posture, It's amazing how the Soul Insole trained my foot to stand and walk correctly and what a huge difference that's made for me!

Monique Michaud
Mother, Sales Professional
Ian Duncan
MD, Orthopedic Surgeon – Visalia, CA
The orthotics work great- I'd love to have some in all my shoes- have recently bought several pairs of PowerStep full length orthotics, but it's a nuisance to have to switch out the existing orthotics, and these often crowd the toe box. When all you need is Arch supports, your creation is so much easier and more useful/comfortable. I've been dealing with some tib ant tendonitis for 6 months and for the first time don't feel it now. Really easy to put in and comfy, thx!

Peter Moncado D.C.
Chiropractor – San Diego, CA
I absolutely love them. They're very good for supporting the small bones called the tarsals and also helping with biomechanics and the Kinetic chain cycle.
I would strongly recommend trying a pair!
Valerie Hanson
Restaurant Supplies Account Manager – Newport Beach, CA
I have been wearing the Soul Insole for a little over 3 years now and can't say enough about it! I work as a Business Development Specialist and part of my job is to walk around conventions all day and prospect for new clients. Before my feet would hurt like crazy at the end of the day, but ever since I started wearing this product I feel much more able to walk around without having to constantly stop and sit because my feet are hurting. This gives me great support for my arches! Highly recommended!

Simbawani Anad
I don't know how these insoles work but I'm just thankful that I have them. I've been using magnetic insoles and they were starting to hurt my feet, my balance was off I could hardly walk. If I didn't wear the magnetic insoles, my back hurt so I was afraid wearing these new ones I would have back problems but I don't! This is a game changer for me ! My balance is better and I can walk without feeling like I'm gonna fall over thank you, thank you!

Jeanne N Sampson
Love them so much I bought a second pair. They make my sandals so much more comfortable.

Jen
As described, just to big for me

Amazon Customer
Item did not work for me and was nonreturnable. I left a negative review and the seller reached out almost immediately to make things right.

Laurie Cunningham